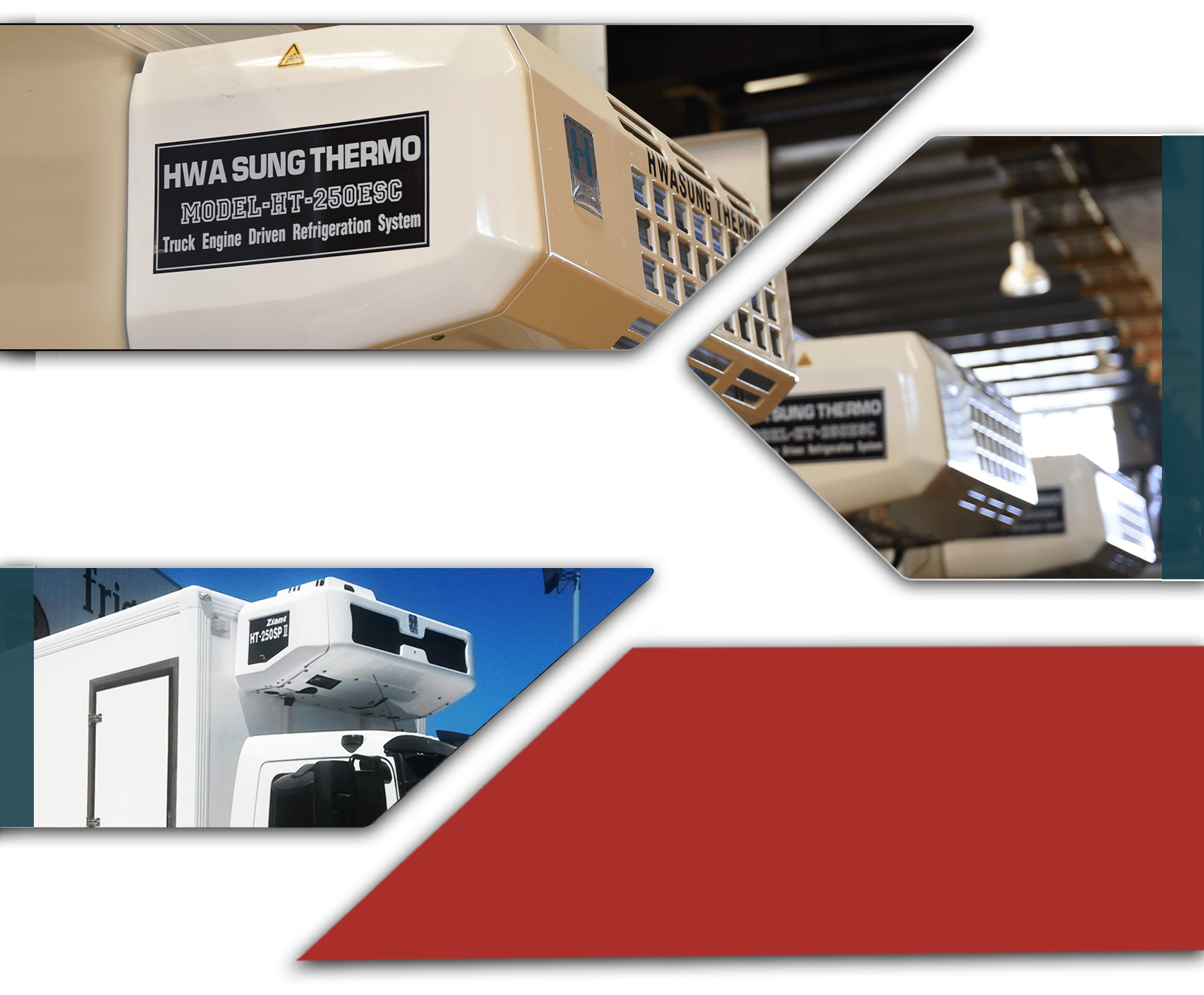 Model
Truck size
Type or reefer unit
Cooling Range Ococ
WeightKg
Direct Driven
AC 220v
AC380v
Diesel Engine
HT-050mini
Small
*
0
36
HT-100 II
Small And Medium
*
10- تا 20-
49
HT-100ESC II
Small And Medium
*
*
10- تا 20-
110
HT-250 II
Medium
*
20-
61
HT-250ESC II
Medium
*
*
20-
153
HT-250SPES Silent
Medium
*
*
20-
426
HT-50DWES Super cool
Large
*
*
20-
570
HWASUNG THERMO cooling unit
Mehransard is exclusive sales distributer of HWASUNG THERMO (South Korea) since 2007.HWASUNG THERMO is the biggest manufacturer of truck cooling units in Asia that its product introduces by MEHRAN SARD to IRAN market and now has suitable market share. Using high quality parts caused that HWASUNG reefers can work correctly in high ambient of Iran summers. Establish a balance between price and quality in HWASUNG reefers caused that many huge companies prefer to use this product in their cold chain. All HWASUNG refrigeration units are under MEHRAN SARD guaranty in IRAN.
HWASUNG THERMO cooling unit
Model
Truck size
Type or reefer unit
Cooling Range Ococ
WeightKg
Direct Driven
AC 220v
AC380v
Diesel Engine
HT-050mini
Small
*
0
36
HT-100 II
Small And Medium
*
10- تا 20-
49
HT-100ESC II
Small And Medium
*
*
10- تا 20-
110
HT-250 II
Medium
*
20-
61
HT-250ESC II
Medium
*
*
20-
153
HT-250SPES Silent
Medium
*
*
20-
426
HT-50DWES Super cool
Large
*
*
20-
570
Mehransard Is Exclusive Sales Distributer Of HWASUNG THERMO (South Korea) Since 2007.HWASUNG THERMO Is The Biggest Manufacturer Of Truck Cooling Units In Asia That Its Product Introduces By MEHRAN SARD To IRAN Market And Now Has Suitable Market Share. Using High Quality Parts Caused That HWASUNG Reefers Can Work Correctly In High Ambient Of Iran Summers. Establish A Balance Between Price And Quality In HWASUNG Reefers Caused That Many Huge Companies Prefer To Use This Product In Their Cold Chain. All HWASUNG Refrigeration Units Are Under MEHRAN SARD Guaranty In IRAN.